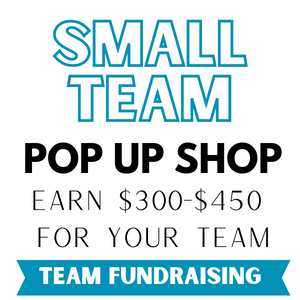 What is a Pop Up Shop?
At the beginning of your season, you usually have an in-person parents meeting.  Often, this is a time to meet coaches, get fitted for suits and sometimes the only chance to buy team spirit wear. Now you can make it a time to raise funds and buy spirit wear!
Place an advance order for a "Ready To Sell: Pop Up Shop" for your team's parent meeting. Buy at a discount, save on shipping and sell to earn money for your team!

When you place this order, the Chlorine Deckwear team will reach out to confirm your team items prior to placing the order. 
**Please order at least 14-21 business days ahead of your planned sale date.**
What's Included for a Small Team?
50 Team Towels at $25 each (retail $36.99)
50 Team Magnets at $6 each (retail $9.99)
50 Team Water Bottles at $23 each (retail $29.99)
What's the Price?
$2700
Pay Chlorine Deckwear in advance from team funds
Free shipping
How Do I Fundraise From a Pop Up Shop?
Sell a team towel for $30 - Make $5 each or $250
Sell a team magnet for $7 - Make $1 each or $50
Sell a water bottle for $26 - Make $3 each or $150
Or sell each team member a bundle for $60 - Make $6 each or $300
Earn between $300 - $450 for your team